Fibroview® Data Solution
Software for managing your FibroScan® examinations.
Review FibroScan® examinations directly on your PC!
FibroView™ Data Solution is an intelligent application providing connectivity to your devices on the hospital network, simplifying sharing and team work. It is installed on the server and accessible from any web browser.
BENEFITS
Mobility: Accessibility from any Web browser
Traceability: Activity logs to user's rights management
Connectivity: Patient data sent to FibroScan®
Sharing: Simplified teamwork & information
FEATURES
Designed for access via a web navigator connecting to the URL application*, FibroView™ Data Solution brings the following features:
Exam review and reporting

Review of all available FibroScan® exams coming from connected FibroScan® devices
Full reporting wizard with text editor on exams
Access to patient file

Worklist

Management of patients scheduled for a FibroScan® exam
Transmission of the patient's information to the connected FibroScan®

FibroScan® Monitoring

Connectivity and activity monitoring of connected FibroScan® devices with detailed information concerning their configuration and status

Statistics

Statistical information on FibroScan® exams stored in FibroView™ Data Solution

HL7

Connectivity with HL7 standard applications of the HIS (worklist, exam data storage, patient files storage or retrieval…)
PREREQUISITES
OS: Windows 7, Windows 10, Windows 7, Windows 8, Windows 2012 R2, Windows 2008 R2, Linux
Processor: 32 or 64 bits
RAM: 4 GB minimum, 8GB recommended
Web browser: Internet Explorer 10, Internet Explorer 11, Google Chrome, Safari, Mozilla Firefox
MY FIBROSCAN APP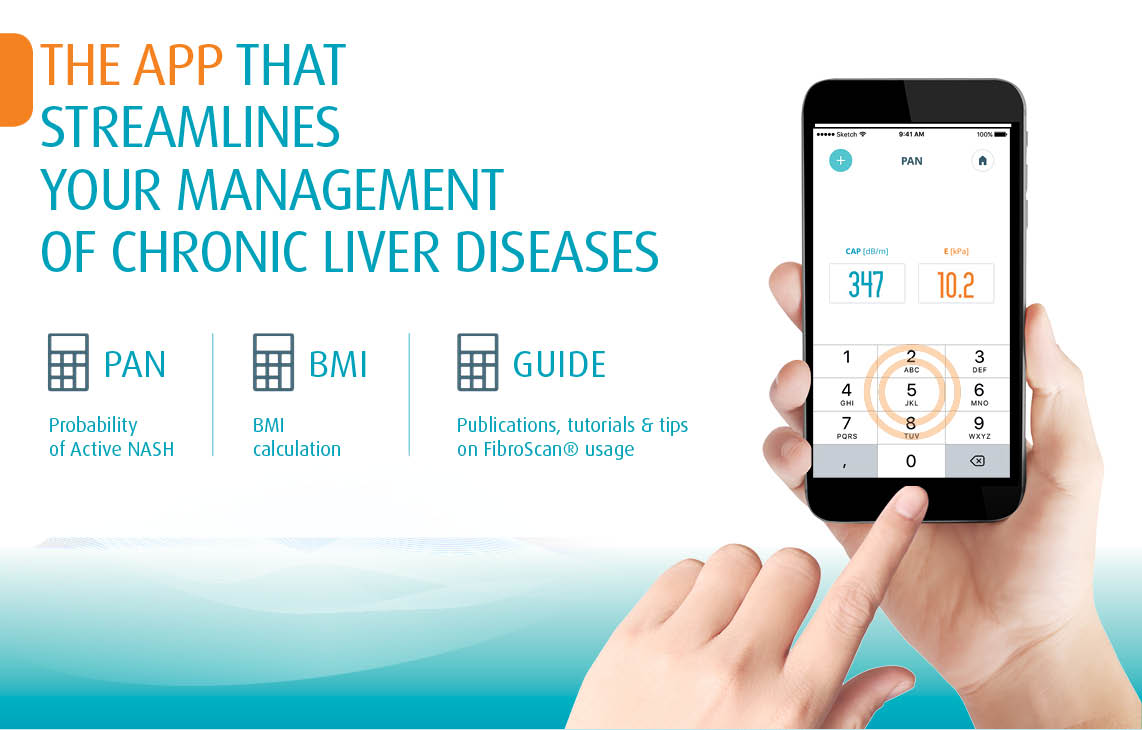 This FibroScan companion enlarges the suite of diagnosis tools based on FibroScan results (LSM and CAP). It also provides a proven source of information for scientific publications, guidelines and FibroScan best practices.
BENEFITS
Dedicated to physicians
Hepatic score library:
-Interpretation Guides : Assist all FibroScan users in interpreting patient examinations results (ie determining Fibrosis stage and Steatosis grade) according to the latest scientific publications
-PAN*: Medical Device that combines LSM (E) and CAP results to assess the probability of Active NAFLD, NAS ≥ 3
-BMI computation: Rapidly compute BMI of your patient
Information for FibroScan users:
-Access to FibroScan related scientific publications
-Regular updates with latest publications and scientific events
-Tips about FibroScan usage
Easy to use
Free content
Available on Google Play and App Store Fibroscan® Desk Solution Documentation DownloadEdit "Fibroview® Data Solution"
Latest News
FibroScan Demonstration
Rapid Testing for Hep C VIDEO